20 May

Advantages and disadvantages of the induction cooker - to be aware of everything!

I want to replace my stove for a while because the oven is a thousand years old and my ceramic base is full of scratches and anyway older than my friend. So I started looking around and then realized that I didn't know anything about the reason for the induction cooker , other than that they were in vogue and looked cool. So, I went after it. I'll tell you what I learned so you can decide accordingly!
There are three members in the family of electric hobs: traditional, glass-ceramic and state-of-the-art: the induction hob. Of course I have to! Or not?
The birth of the induction cooker
19th-century physicist James Clark Maxwel discovered that when metal enters a magnetic field, heat is generated. Following his idea, it was discovered that this technology could also be used for cooking. Induction copper coils are placed under the cooking surface of the induction hob , and when they are energized, a so-called oscillation, i.e. a rapid vibration, is created, which forms a magnetic field. In appearance, the induction hob is like the glass-ceramic version, but here the heating strips don't help you prepare the food.
Advantages
Efficiency
One of the biggest advantages of induction hobs is their efficiency. Induction hobs can also reach an efficiency of 80% , which is much better than their ceramic counterparts, gas hobs have a efficiency of approx. And at 30%, they can't be compared. In practice, this means that water boils much sooner on an induction hob than when heated on gas, so this cooking mode is faster than you are used to.
The process developed for this hob involves very little heat loss and this results in significant energy savings . However, this is only possible if you use dishes of the correct thickness on the hob. With utensils at least 3-5 millimeters thick, you can achieve optimal energy consumption.

Safety
Unlike gas stoves, there is no open flame, which reduces the risk of possible burns. When the hob is switched on, the ceramic hob remains cold. Heat is only generated when the system is active, i.e. when a vessel is placed on it. Once the pot is removed, the surface cools quickly, so you can keep the little squirrels safer in the kitchen. While the residual heat indicators are lit, do not touch the hob, but they are great for keeping food warm or defrosting. The simpler models have a 3-stage display and the more serious ones have a 7-stage display. Unlike gas stoves, here the child lock is a function available.
He can't get as hot as his peers
The surface cannot heat up as much as it does for ceramic tiles or gas roses. This fact also prevents accidental splashes of food from burning , making it much easier to clean the hob. I live in a panel, so in the summer heat, it would be a special blessing to be able to cook in a cooler environment and not heat the apartment any further - against my will.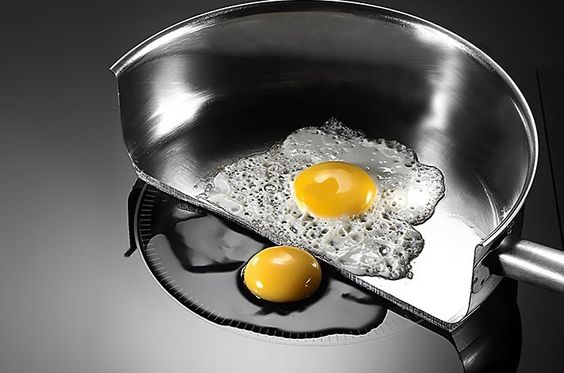 Adaptation of cooking zones
The cooking zones also adapt to the size and shape of the pots, so they heat the food evenly . You have to imagine this so that, unlike gas, you can safely put even your smallest pot on the largest zone. There is also a connectable cooking zone hob, which allows you to place larger than average pots on it.
Fastest reaction
Unlike other hobs, the induction hob has the fastest response to requested commands. Since there is no ordinary heating and cooling here, its thermal inertia is almost zero. This means that you can control the power of the cooking zone in one second, so you can set the right cooking level immediately.
Extra features
Depending on the type and brand, there are a number of extra features in the products. I would just like to highlight some of these:
Stop + Go : Pauses cooking at the touch of a button and then resumes it with the same settings. It is very useful when cooking delicate food and e.g. they ring or you suddenly have to pay attention to the kids.
Slide control: This means that the temperature is sliding by touch control , not by pressing the minus and plus signals. In most cases, the cooking zones can be controlled separately.
Beep: The hob not only signals when the pre-set cooking time has elapsed, but also when it detects a touch on the control panel for a longer period of time, e.g. left finger or run-off milk. The bad news, though, is that you can even report some devices when cleaning, which isn't funny.
There are range hoods that automatically respond to induction cooker settings.
I haven't decided yet, but I'm convincing, but I'm very curious about your opinion if you're already a big induction hob user! Write a comment or search on facebook (even in private)! And of course I would love a liking too!

Disadvantages
Price
Dirty Fabrics… If you want to see an induction hob in your kitchen, be prepared to reach deep into your pocket. A four-zone, built-in gas hob will cost around HUF 30,000, while its induction brother with the same parameters will cost approx. It starts at 70,000 HUF. The question is, is it worth it?
Expensive energy source
Natural gas is the cheapest, so if you pay a flat rate, consider whether you want to give up this financial advantage. An induction hob runs on electricity , which is normally more expensive than natural gas, but if you're in the fortunate position of having solar panels or similar energy-friendly technology to help you, this point doesn't affect you. Of course, I have had an electric stove so far and if I wanted to, there could be nothing else, because imagine there is no gas in the whole of Rich. But it's not gas, at least we can't explode from making coffee.
Use only with special containers
The title is a bit misleading because Grandma's favorite dishes can also be good. just as much as poisonous pieces if they meet certain conditions. The bottom of the dishes should be very smooth. One would think that almost every pot is like that, even though it is a mistake. It cannot be used on an induction hob, e.g. neither the wok, the cauldron, the wavy-bottomed grill pan, nor the tarkedlis oven. The good news, however, is that there is also a wok available specifically for induction stoves. Of course it exists!
In addition, there is another very important criterion: only thick-walled, magnetizable vessels can be used. It's good to know that most steel and cast iron cookware perfectly meets your requirements. Unfortunately, e.g. aluminum, copper, tiles, ceramics and glassware are not.
A very simple and quick test will find out if you will be able to use the set you already have at home or not. Get one of the magnets off the fridge and put it near the pots. On which he clings, he successfully took the obstacle and passed the test.
Well, of course, there is a solution for that! If you don't want to give up your well-proven pots, then the adapter, also known as the adapter plate, was invented for you. This is a metal disc that needs to be placed between the hob and your existing utensils while cooking. Also available individually and in sets, in different sizes and with a fixed or removable handle.

Noisier than gas
An induction stove is rare, but the problem that arises is that it is noisy. This can be caused by the operation of built-in small fans, but most consumers say it is a barely noticeable sound.
Pacemaker disorders
The operation of a medical pacemaker can be affected very closely by an induction hob, so this type of hob is not recommended for people using such a device .
You have to learn cooking again
If you're one of those people who have been used to cooking on gas or a ceramic stove for many years, I have some bad news (for you and myself): we need to learn cooking again. With this type, the usual time and gear setting are different , so you have to experience the new possibilities. But at least it's exciting!
Health effects
SCENIHR (the European Commission's Scientific Committee on Emerging and Newly Identified Health Risks) deals with the physiological effects of everyday technologies. The electromagnetic field phenomenon is created by: (EMF underdone abbreviated) of the electric charges. EMF not only occurs in nature but is also generated by electronic devices. Numerous scientific experiments and researches have examined the impact of this phenomenon on health, particularly on different types of cancer and the increased risk of Alzheimer's disease. Recent results have not confirmed this relationship, there is no demonstrable adverse effect.
In contrast, Dr. Masaru Emoto, in several books by the world-famous Japanese scientist who died in 2014 (The Message of Water, The Hidden Wisdom of Water), also concluded that the induction hob also disrupts the natural structure of water molecules, resulting in unhealthy diseases can be caused by consuming such foods. But what, isn't it today?
If you can't decide yet ...
Mixed hobs are already available , one half of which works with the ceramic solution and the other with the induction hob method, so if you don't want to immediately dive into the unknown, you can also buy such a model.
They also sell individual induction cookers . There are also portable induction hobs on the market that are easy to move and transport and can be cooked on after plugging in. Maybe you should try one like this first!
We can see that in our rushed world, our furnishing items are evolving at a rapid pace. Like our phone, our TV, our watches have become smart, so modernization hasn't escaped the hobs either. The induction hob is another evolutionary step in the world of cooking. Wow, but it became a nice sentence! 🙂
And if you've already chosen the perfect induction hob, make heavenly vegetable dishes on it! If you click, you get hot and cold too! --->